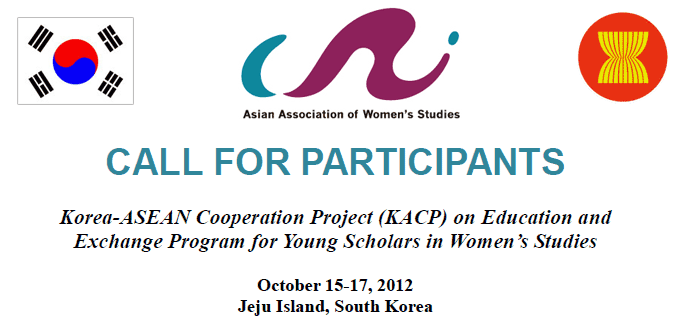 The Asian Association of Women's Studies (AAWS) invites participants to the Korea-ASEAN Cooperation Project (KACP) on Education and Exchange Program for Young Scholars in Women's Studies, which will be held in Jeju Island, South Korea on October 15-17, 2012. In coordination with the Association of Southeast Asian Nations (ASEAN) and the ASEAN University Network (AUN), AAWS designs and conducts the KACP to:
1) empower young women scholars and disseminate Women's Studies to institutions where Women's Studies is not well established as yet;
2) understand the lives and experiences of women, share information, and strengthen the network of women scholars;
3) develop and practice academic and social leadership in the program; and
4) promote collaborative research and publication on issues concerning women's/gender studies and leadership.

Eligibility to Participate
Young scholars (i.e., graduate and post graduate students, junior teaching staff, and researchers) in Korea and in ten ASEAN member countries (Brunei, Cambodia, Indonesia, Laos, Malaysia, Myanmar, Philippines, Singapore, Thailand, and Vietnam), who are currently affiliated with a university or a research institute and have conducted or are undertaking research on women, are eligible to participate in the KACP.

Participant Selection
Participant selection will be based on the evaluation results of these required documents:
1) Application Form (download the attached file above) = 50%
2) Abstract (download the attached file above) = 50%

Guidelines for Abstract Submission
1) Abstracts should deal with any of the following general themes in the contexts of Korea and/or the ten ASEAN member countries:
I – On Education and Leadership
a. Development and Contribution of Women's Education
b. Women's Creative Leadership and Empowerment
II – On Critical Issues and Practice
c. Young Women's Movements and Activism
d. Women's Research and Development
2) Abstracts should be limited to 300 words only.
3) All submitted abstracts will be reviewed. Results will be announced on August 31, 2012.
4) All authors of accepted abstracts will automatically become presenters and participants during the International Workshop on Women's Studies on October 15-17, 2012 in Jeju Island, South Korea.
5) All authors of accepted abstracts will be asked to submit their full papers on or before September 15, 2012. Failure to submit the full paper on the deadline will mean a cancellation of participation to the international workshop.

Guidelines for Full Paper Submission
1) With a minimum of 10 pages and a maximum of 12, full papers should be based on the accepted submitted abstracts.
2) All papers may be written as case studies, comparative researches, investigative papers or narratives.
3) All authors of submitted full papers should be aware of the danger of plagiarism. Proper citation and acknowledgement of sources should be observed.
4) More specific technical requirements will be given to accepted abstracts only.
5) All authors of submitted full papers may be asked to refine or develop further their work for possible publication.

Guidelines for Application Submission
All applications will be accepted by email (kacp012@gmail.com) from July 30 to August 5, 2012, 12:00 midnight (Korean time). Please note the following important reminders:
1) Late applications will not be accepted.
2) Incomplete application documents will not be considered for evaluation. Please make sure to attach the filled out Application Form and Abstract Submission Form.
3) No modifications are allowed after the documents have been submitted. Please make sure to finalize your documents before emailing them.
4) An "Application Submission Acknowledgement" email will be sent to applicants within 24 hours after submission. If you fail to receive an acknowledgement email, please call +82-2-3277-4241 or +82-2-3277-4244.

Funding
All participating presenters will be given full financial support for a roundtrip airfare, accommodation, and meal allowance.

Important Dates
05 Aug 2012 : Deadline for Application & Abstract Submission
31 Aug 2012 : Notification of Acceptance/Participant Selection
15 Sep 2012 : Final Submission of Full Papers
30 Sep 2012 : Final Submission of Powerpoint (ppt) Presentation File

Contact Us
If you have questions, please email AAWS-KACP secretariat at kacp012@gmail.com.